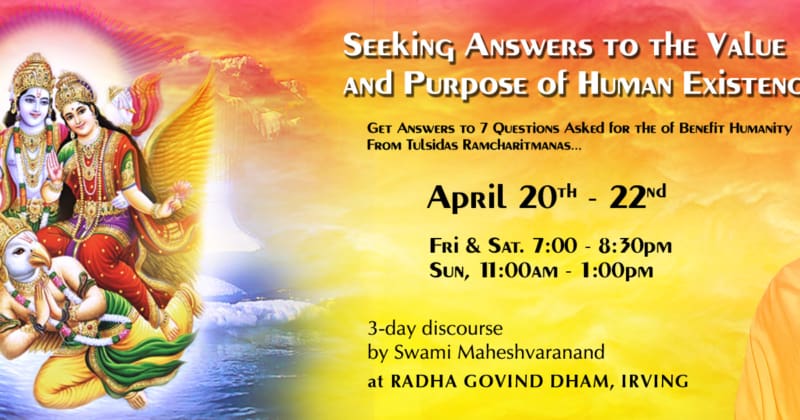 April 20 - April 22, 2018

7:00 pm - 9:00 pm

Day left

ENDED
Event description
Seeking Answers to the Value and Purpose of Human Existence?
Garudji in Tulsidas' Ramcharitramanas asked 7 Questions to Benefit Humanity.
His questions deal with the value and purpose of human existence, the greatest pain, the highest pleasure, the differences between good and evil, the highest virtue, the worst sin and the diseases of the mind. These questions and answers will be analyzed and explained.
Listen to the detailed answers on how Sage Kakabhusundi replies to these profound questions
Which form of all is the most difficult to obtain?
Which is the greatest misery?
Which is the highest pleasure?
What are the essential characteristics of the saints and of the evil-minded?
Which is the highest religious merit made known in the Vedas?
Which is the most terrible sin?
What is the disease of the mind?
Swami Maheshvaranand ji is a senior JKP Pracharak and founder of Radha Govind Society. To read more about him, click here https://www.facebook.com/RGSUSA/
Program is free to attend.  Please join us for a Meal Prashad after the program.  Register below if you plan to attend so we can get an accurate count for preparing prashad