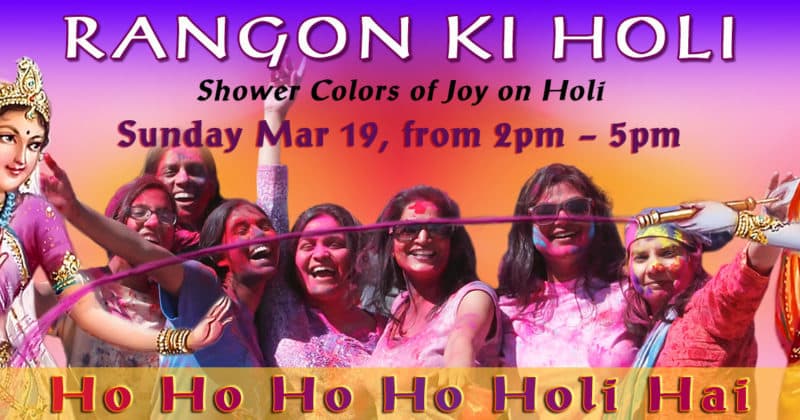 March 19, 2017

11:00 am - 4:00 pm

Day left

ENDED
Event description
This is the final celebration of Holi festival on Sunday Mar 19, where we will actually play with Gulal "Holi Colors".
This will be an energetic and joyous celebration where we get together with family, meet old friends and make new friends, all while throwing Holi powder on each other and chanting the mesmerizing Holi pad kirtans. There will also be a beautiful cultural program to celebrate the spirit of Holi…come share the spirit of Holi fun and devotion

HIGHLIGHTS OF HOLI CELEBRATION
Food Booths Open from 12:30pm- 4pm – Delicious Delicacies from India

11:00 am: Sing Braj Style Holi Kirtans
11:50 am: Speech "What is Braj Style Holi"
12:15 pm: Arti and Bhog Geet 
12:30 pm: All Food Booths Open Outdoors
1:30-2:00pm:  Cultural Holi Dances Performances
2:00pm: FREE COLOR DISTRIBUTION…. COME EARLY TO GET YOUR GULAL
2:00-4:00pm: Play Holi Colors with Live Music …COUNTDOWN TO COLOR PLAY AT 2PM SHARP
Parking inside the temple complex is limited.  Come early to park inside. There is plenty of parking in the neighborhood areas to park…. you can choose to walk if you live close by.