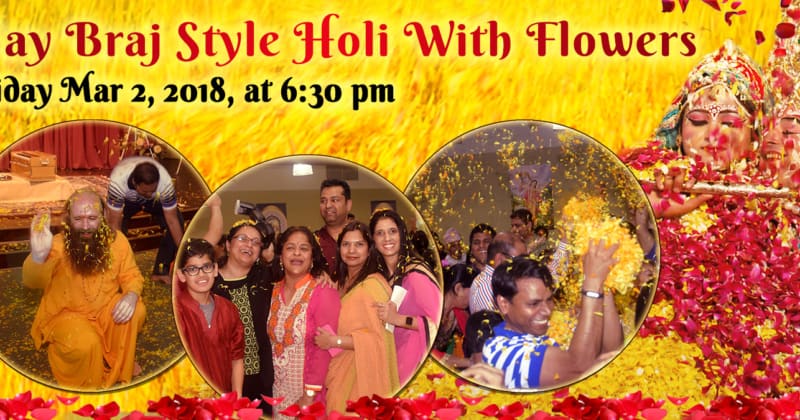 March 02, 2018

6:30 pm - 9:00 pm

Day left

7 day(s) to start
Event description
Play Holi With Flowers…. Aao Braj Ki Holi  Khelen Phoolon Ke Saath
All are invited to this fun, family friendly unique play of Holi as played traditionally in Braj India with flower petals
Do a Flower Poojan of Radha Krishna and get your blessings from Bhagwan on this auspicious occasion of Holi.
Sing joyous Holi bhajans, and get ready to be showered with Poojan flowers in a very exclusive and special Flower Play.
HO HO HO HO HOLI HAI !!!!
6:30pm: Joyous Holi Kirtans
7:00 pm: Radha Krishna Arti
7:10 pm: Holi bhajans will continue
7:30 pm: Flower poojan of Radha Krishna (Special Holi poojan)
8:00 pm: Krishna Appearance and Flower Play – Holi Hai!
8:30 pm:  Dinner prasad is served
9:30 pm Temple Hall cleanup – everyone requested to stay and cleanup 🙂
 SPONSOR POOJAN FLOWERS FOR HOLI
We will be getting 150 Kgs of Flowers from India to make this very special.  Requesting your sponsorship help to pay for the Flowers….the more flowers you buy the more special our Holi Celebration can be….