This summer explore the world of Three-Dimensional art, with a unique program designed to simulate a child's imagination.
Participants will create beautiful 3-D art with the professional instructor's guidance.
Topics covered will be:
Basic understanding of 3-D art
Concepts of building structures
Exploring different media
Pottery making
Puppet making
STEM based 3-D Model
Each week's curriculum will focus on a different technique:
June 18-22 Pencil Sketching & Shading
July 2-6 Water Color techniques
July 16-20 Working with pastels
July 23-27 Canvas Painting
Note: All Supplies are included.
Minimum number of students required: 7
Teacher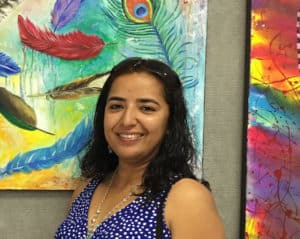 Monika Dogra believes it takes two great passions to be an outstanding teacher, a passion for the subject and a passion for teaching. Working with art has been her passion for over 25 years as she made my living as an Artist, Designer and Montessori School teacher. She gets greater joy out of inspiring her students than teaching them. Many of her students have found art to be very useful in designing and presenting project work at school.
Monika excels in the area of teaching rich Indian heritage and culture through various traditional art styles viz Madhubani, Warli, Kerala Murals and Basholi/Chamba style of miniature painting. Monika is also an Aptech certified teacher for graphic, multimedia and animation designing with an experience of Montessori teaching.