This course explores the beauty of nature thru Landscape Painting as well as Floral Painting. 
Landscape Painting
The focus of the class is on incorporating elements of color, shape, and movement to develop the composition.  Using either watercolors or acrylics, students will study plain air techniques and work from photographs. 
Floral painting
Inspired by the beauty of spring season, students will learn to create a floral painting from life that celebrates the beauty of flowers with freshness, sensitivity and lively detail. Using a lucid step by step approach, participants will paint a small bouquet of their own design using a direct painting method.
The instructor will guide students with daily demonstrations and in-depth personal critiques through each stage of the process. From creating a strong design with careful drawing to color mixing, modeling form, and finishing details. 
Note: All Supplies are included.
Teacher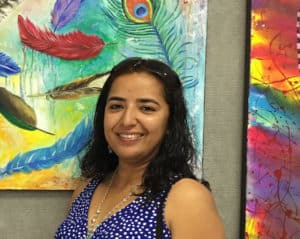 Monika Dogra believes it takes two great passions to be an outstanding teacher, a passion for the subject and a passion for teaching. Working with art has been her passion for over 25 years as she made my living as an Artist, Designer and Montessori School teacher. She gets greater joy out of inspiring her students than teaching them. Many of her students have found art to be very useful in designing and presenting project work at school.
Monika excels in the area of teaching rich Indian heritage and culture through various traditional art styles viz Madhubani, Warli, Kerala Murals and Basholi/Chamba style of miniature painting. Monika is also an Aptech certified teacher for graphic, multimedia and animation designing with an experience of Montessori teaching.