 Tania Damle is a classically trained bharatnatyam dancer with a passion for all types of dance. She has been been learning dance for over 15 years and teaching both bharatnatyam and bollywood dance for 7 years. She continues to expand her knowledge of the art form by training in Odissi.
Bharat Natyam Dance Class
○ Breakdown 

of Class Time
■

Stretching – 15 minutes
■

New Dance Lesson – 30 minutes
■

Theory Lesson – 15 Minutes
○

There is no real age requirement to progress in level,
but the child must be at least 5 years old to start
●

Fees: 
$205 per semester
●

Class Timings: 
Mondays from 6:00 PM to 7:00 PM
●

Performance Opportunities
○Annual Day Performance

at Radha Govind Dham
○

Denton Diwali Celebration
●

Class size is limited to 12 kids
●

Class calendar will follow RGD calendar for the 2018-2019 
academic year
Teacher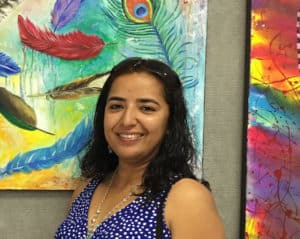 Monika Dogra believes it takes two great passions to be an outstanding teacher, a passion for the subject and a passion for teaching. Working with art has been her passion for over 25 years as she made my living as an Artist, Designer and Montessori School teacher. She gets greater joy out of inspiring her students than teaching them. Many of her students have found art to be very useful in designing and presenting project work at school.
Monika excels in the area of teaching rich Indian heritage and culture through various traditional art styles viz Madhubani, Warli, Kerala Murals and Basholi/Chamba style of miniature painting. Monika is also an Aptech certified teacher for graphic, multimedia and animation designing with an experience of Montessori teaching.