Students will learn Pottery making, Chinese brush painting and create exciting Craft projects using paper quilling, punch crafts and make wind mobiles.Art Supplies are included in the price . 
Pottery making – This class teaches children the fundamentals of hand built pottery by exploring a variety of applications.  The three main techniques of hand building construction are pinch, coil, and slab. 
Introducing Chinese Brush Painting – Students will learn to create art pieces with traditional tools like Chinese brush, mineral ink, and specialized paper. The class will teach the students how to find harmony between beings and nature.
Note: All Supplies are included.
Teacher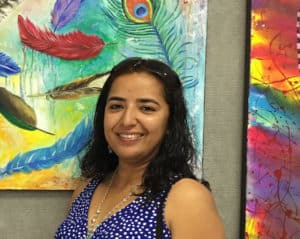 Monika Dogra believes it takes two great passions to be an outstanding teacher, a passion for the subject and a passion for teaching. Working with art has been her passion for over 25 years as she made my living as an Artist, Designer and Montessori School teacher. She gets greater joy out of inspiring her students than teaching them. Many of her students have found art to be very useful in designing and presenting project work at school.
Monika excels in the area of teaching rich Indian heritage and culture through various traditional art styles viz Madhubani, Warli, Kerala Murals and Basholi/Chamba style of miniature painting. Monika is also an Aptech certified teacher for graphic, multimedia and animation designing with an experience of Montessori teaching.