This course aims at cultural and spiritual development of your child through ways that would groom their personality. Participation in arts is known to let the child grow their self esteem, self confidence, develop poise and learn how to overcome anxiety in this highly competitive era.
This course is extension to Hinduism class as it would give life to the stories from our ancient scriptures when students would enact them. It would give them a vision to see today's life from a different perspective and would help them evolve with right morals and ethics.
Deepali Goyal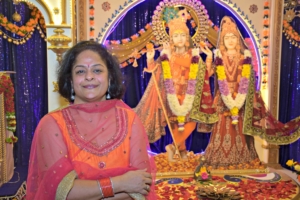 Deepali is a Computer Science professional from Delhi Institute of Technology, having worked for various IT Companies ranging from Fujitsu ICIM, Tata Infotech to Dell Services. She is currently working at Healthcare IT company called MedAssets. She has 2 sons – Udgam Goyal (19 yrs) & Naman Goyal (11 yrs).
Deepali's love of teaching kids about Hinduism blossomed as she noticed her two sons taking interest in these topics and bringing them into their lives while growing up. Udgam now goes to MIT. 
Deepali has been spearheading all leela performances for Radha Govind Dham festivals which includes participation from all age groups and  adds lots of color, enthusiasm, devotion  to our celebrations.