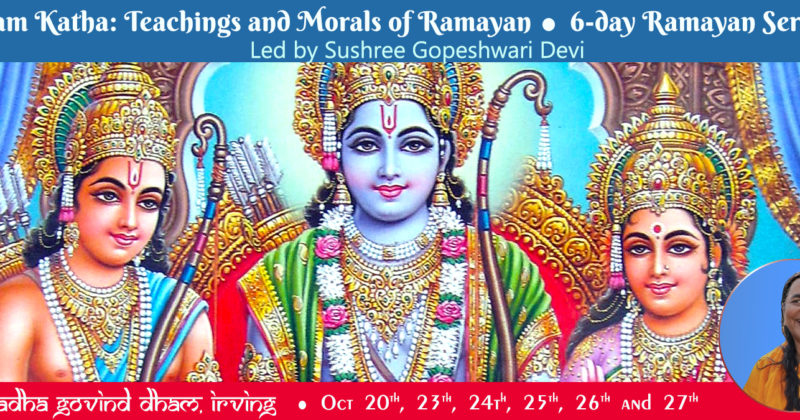 October 20 - October 27, 2019

11:00 pm - 7:00 pm

Day left

1 day(s) to start
Event description
Ram Katha: Teachings and Morals of Ramayana
Join us for a 6-day lecture series led by Sushree Gopeshwari Devi.
Wed, Oct 23rd to Fri, Oct 25th – 7pm-8.30pm Sunday, Oct 20th – 11am-1pm
Sat, Oct 26th – 7.45pm-8.15pm
Sun, Oct 27th – 11am-1pm
Prashad will be served every day after the lecture.
In this very enlightening and powerful series of lectures, Didiji will explain to us –
– Concepts and teachings from Ramayan for our deeper understanding.
– How to incorporate the morals and practical lessons from Ramayan for everyday living.
Kids of all ages are welcome to attend this interesting series on Avatar of Bhagwan Ram and His leelas.
Gopeshwari Deviji was born in Fiji to a very illustrious family known for social service and spiritual learning. She has an honorable BA and MA degree in English Literature and Western Philosophy. She met her Guru, Jagadguru Shree Kripaluji Maharaj in 1980 and studied under His guidance. She travels the world delivering inspiring talks, conducting seminars and workshops.