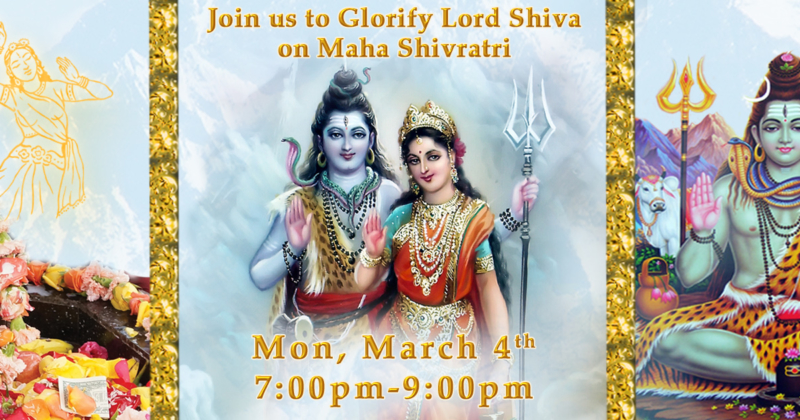 March 04, 2019

6:30 pm - 9:00 pm

Day left

ENDED
Event description
Maha Shivaratri is a Hindu festival celebrated annually in honor of the Lord Shiva. … It is a major festival that marks a remembrance of "overcoming darkness and ignorance" in life and the world. Shivratri is also the day when God Shiv and Goddess Parvati were married and when the Lord of Dance performed the Tandava Nritya on night of Shivratri which is described as a vigorous dance that is the source of the cycle of creation, preservation and dissolution.
Let us honor Shiv ji our Lord of Dance on this auspicious day. All are welcome to attend.  
Highlights of Shivratri Program:
6:30pm: SHiv Bhajans start
7:00pm: Shiv Poojan and Abhishek start
7:00 pm: Arti of Radha Krishna
7:10 pm: Shiv Bhajans followed by speech by Swami Nikhilanand ji
8:10pm: Nritya Performances
8:30 pm: Appearance of Shiv & Parvati
8:40pm:  Perform Shiv Arti
9:00pm: Maha Prashad served

BECOME A MAHA PRASAD SPONSOR FOR MAHA SHIVRATRI. Contribute $101 or $251 or $501 towards Maha Parasad, and sponsors can perform the Shiv Arti and get recognition on stage. Also a surprise gift to honor our sponsor families.