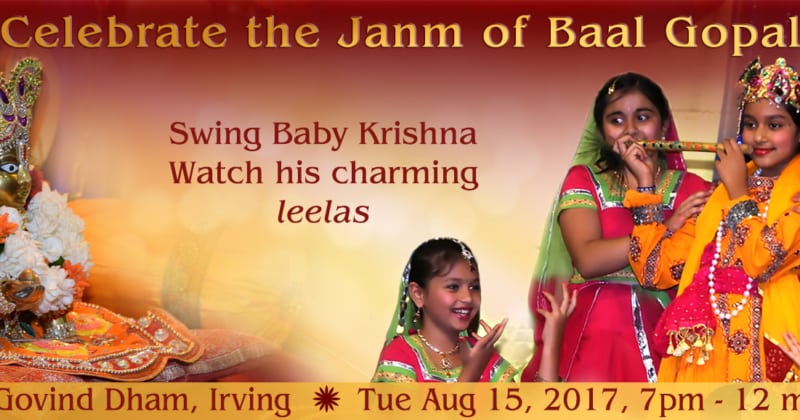 August 15, 2017

7:00 pm - 12:00 am

Day left

ENDED
Event description
 Join us for a spectacular Janmashtmi Utsav on Tuesday Aug 15, 2017.
Lets welcome the birthday of our Govind Gopal with lots of energy, excitement and enthusiasm. We have an amazing lineup of activities starting at 7:00pm and going all the way up to midnight 12am.

There will be a snack booth run by RGD Youth for kids who may get hungry and want food earlier. 
Highlights of Krishna Janmashtmi Program at Radha Govind Dham
7:00pm :  Daily Arti of Radha Krishna
7:10pm:  Chanting the glories of Krishna
7:00pm  You can swing Baby Krishan on a Jhulan
7:40pm:  Krishna Janm Speech by Swami Maheshvaranand ji
8:10pm  Dance Drama Enactments of Janm and Natkhat Baal Krishna
8:30pm: Devotional Dance enactments of Baal Gopal Leelas
9:00pm: 'Dahi Handi' Breaking by Natkhat Kanha
9:15pm  Enjoy a special Dinner "MahaPrashad"
9:15-10:30pm:  Do Abhishek and Jhulan of Baal Gopal
10:00-12:00:  Uplifting, Joyous Keertans
12:00am: Do Baal Gopal Arti at midnight
Your family is sure to remember this beautiful tradition of Krishna Janmashtmi for years to come.
BECOME A SPONSORSHIP FOR JANAMSHTMI 
Sponsor Mahaprashad  – Pay $51,  $101,  $201 (All sponsors get Free Arti) 
Sponsor Flower Garlands to decorate shrine  – Pay $51 
Sponsor Baal Gopal Aarti at midnight for $21 per person, $51 per family

Choose how much you want to contribute and where you want your contribution to go fromdrop down box below and click on Pay Now button to make your donation for Janmashtmi below