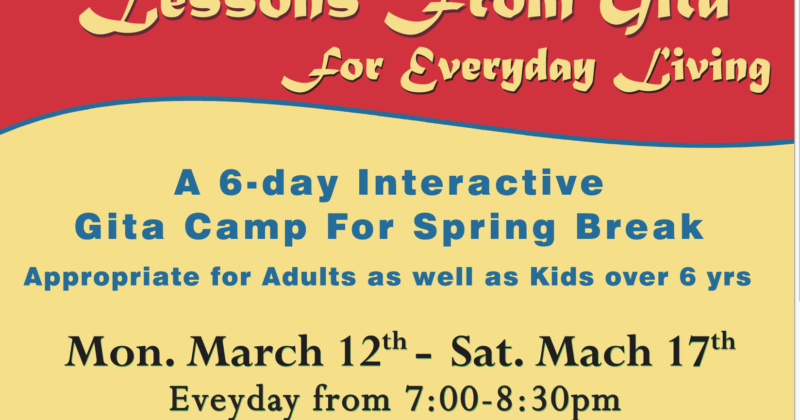 March 12 - March 17, 2018

7:00 pm - 8:30 pm

Day left

ENDED
Event description
Spring Break Family Gita Class With Swami Nikhilanand
Presenting Gita Chapters 13, 14 and 15

Incorporate the lessons of Gita into Everyday Life
Let your kids questions about Hinduism answered
Learn Bhagwad Gita in a fun way that you will remember for the rest of your life
Come and join us for this highly acclaimed Family Gita Class, which has been developed by Swami Nikhilanand and offered at Hindu Temples all over the US for the last 10 years.
Instruction suitable for ages 6 and up.
Adults without children also welcome.
Worksheets provided for kids and adults.
A fun quiz game of Jeopardy will be played every day to review knowledge.
Timings:
Mon, March 12 and Sat, March 17 – 7:00-8:30 pm;
Dinner prasad will be served daily after the program.
For videos of past classes click here
FILL THIS TO REGISTER FOR FREE GITA CLASSES