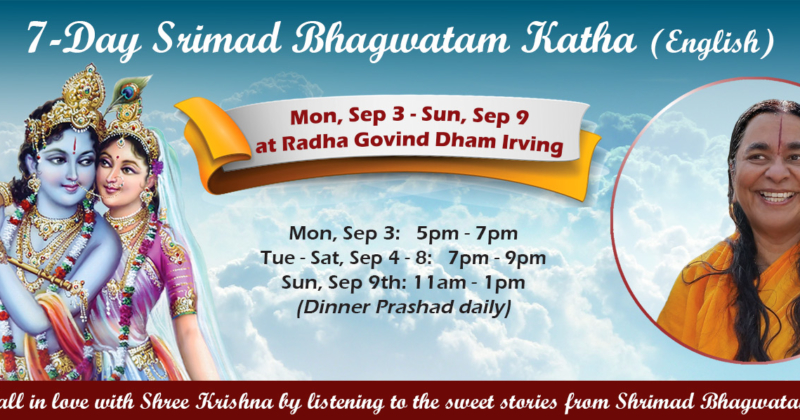 September 03 - September 09, 2018

5:00 pm - 7:00 pm

Day left

ENDED
Event description
Shrimad Bhagwat Puran: Fall in love with Krishna through the soul captivating stories of Shrimad Bhagwat Mahapuran
The importance of listening to the Bhagawat Katha is well known to those following the path of Bhakti. In the age of Kali, it is said that Shree Krishna has taken the form of the Bhagwattam to grace His devotees. Therefore Srimad Bhagawattam is also known as a doorway into the Bliss of Bhakti!
We are delighted to invite you to Radha Govind Dham's  first Bhagwat Mahapuran Katha by Sushree Gopeshwari Devi, to commemorate the Moorti Sthapna occasion.  What better way to welcome our BelovedRadha Krishna!   How can one not fall in love with the most beautiful and loving form of the Lord after learning about His boyish pranks with the Gopas and His charming exploits with the Gopis in the divine land of Braj? 
 Join us for 7-Days of Bliss from Monday Sep 3 to Sunday Sep 9, 2018.  All Are Invited To Listen!!!  
Monday, Sep 3:           5:00pm – 7:00pm (Arti and Dinner at 8:30pm)
Tues-Sat, Sep 4-8:      7:00pm -8:30pm (Arti and Dinner at 8:30pm)
Sunday, Sep 9, 2018: 11:00am – 1:00pm (Arti and Lunch at 1:00pm)
For sponsorship and other details, contact: info@RGDdallas.org or call 469-909-1008

Many Thanks To Food Sponsors For Offering Dinner Prashad Possible on 7-Day Bhagwat Katha