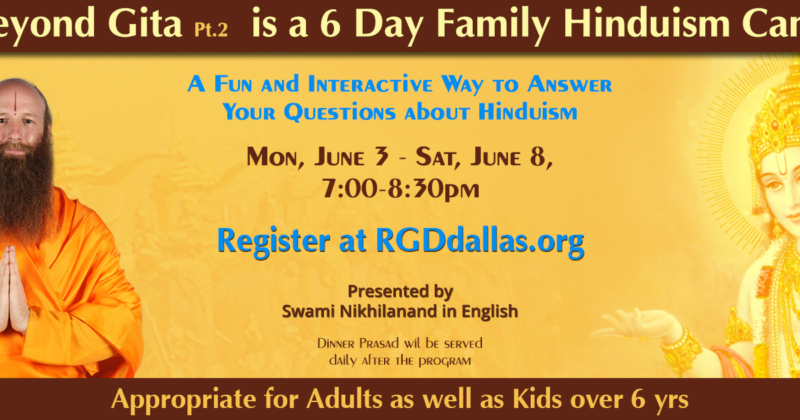 June 03 - June 08, 2019

7:00 pm - 8:30 pm

Day left

ENDED
Event description
"Beyond Gita": A 6-Day Family Hinduism Camp
With Swami Nikhilanand in English
(Summer vacation)
Concepts From Gita expanded for deeper understanding
Incorporating the practical lessons and tips for everyday living
Answering your and your kids questions about Hinduism 
Interactive learn in a fun way that engages both children and adults
Come and join us for this highly acclaimed Family Camp – developed by Swami Nikhilanand and offered at Hindu Temples all over the US for the last 10 years.  * Instruction suitable for ages 6 and up. * Adults without children also welcome.* Worksheets provided for kids and adults.
Timings:
Mon, Jun 3 to Sat Jun 8 – 7:00pm-8:30 pm;Dinner prasad served daily after the program.
TOPICS TO BE COVERED
Day 1: Why should I have faith in Hinduism?
Day 2: Where does the universe come from?
Day 3: Who I am? What is the soul?
Day 4: The law of karm and how it affects our life.
Day 5: Why are there so many forms of God?
Day 6: What is the meaning of life?
Day 7: Meditation for all ages.

FILL THIS TO REGISTER FOR YOUR WORKSHOP – FREE  
[contact-form-7 404 "Not Found"]
For videos of past family Gita Classes click here