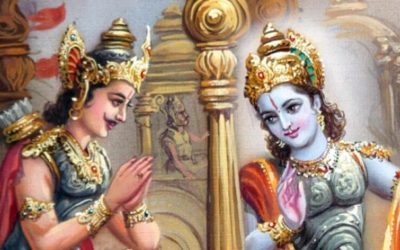 The previous article described Shree Krishna's explanation to Arjun about how physical actions do not need to be abandoned in order to be freed from the bondage of karm – only the attachment to the actions needs to be abandoned.  He explained that there are two ways of freeing the mind from its attachment to actions:  karm yog and gyan yog. Finally he instructed Arjun to attach his mind exclusively to Him and offer all his actions to ...
In the last post, "Characteristics Of God-realized Soul", Shree Krishna explains internal attributes of an enlightened soul to Arjun. However, why did Shree Krishna not describe any external characteristics of a God-realized person? Because there are no reliable outer attributes which could be defined. Externally, the person is still the same as they were before they became God-realized - they have only changed internally (as described earlier ...
In the last article, "How to practice karm yog in our daily lives?", it was explained how it is possible to remember God all the time, even while engaged in worldly activities. Remembering God at all times sounds very ambitious, especially when one is engaged in worldly activities on a day to day basis.  However, if Arjun could practice it during a war, why should we feel discouraged? We will now learn some useful & practical techniques ...
At this point in the discussion, it is very common for another doubt to arise in the mind: do we not need this world? After all, God has put us here. He created this world, He gave us 5 senses with which to enjoy the world – then why is it wrong to become attached in this world? This is a basic misunderstanding which affects all of us. Let's clear it up here. The fact is we do need this world – but we need it for the maintenance of ...
Answer by Jagadguru Shree Kriapalu Ji Maharaj, in response to the question "Why does Discouragement In Devotion Occur?" Discouragement occurs as a result of prior practice. It has to be eliminated through knowledge, through practice. The feeling of discouragement comes when not just one, but all of our weaknesses culminate. They reside in our subtle body and therefore, from time to time, they become strong and manifest. Just like a strong wind th ...