 We want our kids to be successful in the corporate or business world. But we also know that success doesn't just mean money or social status, but something deeper. 
We want them to be brave as they go into the world, be able to do the right thing, make the right choices, and develop traits that lead to long-term happiness. This is where the Gita plays a critical role.
So, OUR GOAL is to help middle and high schoolers overcome the challenges of everyday life, balance school, and extracurricular activities, become leaders with strong character, make brave & confident decisions based on core values, and get ready to face the world! 
What does this course include?
– Provides hands-on techniques based on modern corporate methods, combined WITH a foundation of Krishna's teachings from the Gita, which make an individual a true leader in this fast-paced world! 
– Practical and Fun-filled, Mentor Program and more!
– The best thing is that the program has been developed meticulously by Youth for Youth, and has Youth Teaching Assistants and Mentors. So is very relatable to students!
This Program is for 8th Grade till 12th Grade Youth.
**Currently, we are sorry, all 8th-grade slots are full. If you would like to be added to a waitlist (8th, 7th, 6th grades), please use this link: http://bit.ly/GitaForYL**
This class encapsulates how to use modern aspects in today's world like Emotional Intelligence and our Gita-based values in our day-to-day lives.
We want our students to be successful in the corporate world. But we also know that success doesn't just mean money or social status, but something deeper. We want them to be brave as they go into the world to be able to do the right thing, make the right choices, and have practices that are sustainable. This is where the Gita as taught by our Guru, Shree Maharaj Ji comes into play and provides hands-on techniques based on modern corporate methods, combined WITH a foundation of The Gita to make these methods last longer.
FAQS
Questions
Answer

What will the student learn from this program?

How to tackle day-to-day high school challenges (short and long term) like worry, demotivation, conflicts, peer pressure, lack of balance
How to be brave, do the right thing, and become a leader with a strong foundation of core values and integrity
Practical and Modern:
 – 90%+ practice based learning
 – Highly interactive
 – Actionable frameworks
 – Easy-to-remember hands-on techniques
 – Modern concepts taught in corporations such as Emotional Intelligence
Modern concepts combined with the strong foundation of the GITA:
 – Understand root causes based on the Gita 
 – Understand how the mind works for long-lasting solutions 
Develop discipline and consistency
Become familiar with the relevant Gita Shlokas that help them above
How is this different from other "Self-Help" classes?
FUN and practical
Attacks the root cause and is sustainable:
– The Gita helps get to the root cause, and so the learnings last long-term (since we know WHY?)
– Teaches how the mind actually works: the relationship between the senses, mind, intellect etc.
By Youth for Youth:
– This has been created jointly by Youth (middle/high schooler) for Youth, making it relevant
Contemporary/Modern:
– Mixes the Gita with highly contemporary corporate teachings – such as Emotional Intelligence
Mentorship program
How much of the Gita are we learning? Are we memorizing any slokas? How many chapters of the Gita are we covering? 
– We will not be memorizing shlokas but will have a clear understanding and implementation (via practice) of how Gita can PRACTICALLY help us with our daily lives
– Students will hear and understand the relevant shlokas that pertain to their daily lives
What is the mentorship program?
– We are planning to assign a young adult mentor to each student- during the course and even after
– Someone who has a similar career path, and also understands these concepts
How many minutes per class?
90 Min/class every Sunday from 1pm-2:30 pm
– Highly interactive, practical, group discussions: so 90 mins will fly by
Are there makeup classes?
– It will depend on the number of students and the timings
Teacher-student ratio?
– About 15 per class
– Teachers/coaches: One primary, at least one Youth teaching assistant
Location of class?
– The classes will be held at Radha Govind Dham Dallas
Field Trips?
– Yes, there will be a few field trips – not finalized, but could be to the local park, cookouts, Radha Madhav Dham Austin, rock climbing etc
– We will incorporate outdoor learning to make the program fun
Class material?
– Glossy Handbook to take home, and refer to after the program is complete
– Hand-outs from each class
– Workbook
Homework/Exams?
– Minimal rote work at home. Mostly practice based expectations during the week
– Highly practice based learning: journaling, daily breathing/meditation, etc.
– There may be a final project (TBD)
– Weekly Practice expectations to learn the concepts
My child doesn't know Sanskrit, or even Hindi, will this course still be beneficial? 
– Absolutely
Are there levels to this course, once my child completes the first batch is there a follow up? 
– Yes, we expect to roll out other modules after the Pilot
Who built this course?
Built under the guidance of Swami Nikhilanand
Several adult coaches who are passionate about helping make a difference in youth lives!
A fantastic group of high school interns and college mentors including:
– Aashna Goyal, Aishwarya Adiki, Ananya Adiki, Bibita Chhetri, Kavya Bhasin, Manasvi Kaila, Nehal Goyal, Rajitha Banda, Rishi Meka, Shivani Sarangam, Shreeya Kandel, Shreya Goda, Sri Kesiraju
Teachers
Primary: Chandra Chittoor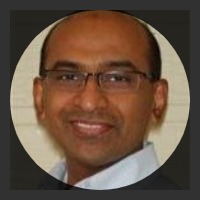 Chandra has held various leadership positions at Accenture, a Global Consulting firm, across Strategy, Account Leadership and Advanced Analytics. Prior to that, he was an entrepreneur, with experience founding, raising venture capital, growing and selling a fast growth organization.
A mash-up of the eternal principles of The Gita (as taught by Shri Kripalu Ji Maharaj) and contemporary leadership strategies, in a way that easily resonates and makes a difference to our modern youth has been a passion and vision for a few years now.
It came to reality in the form of this exciting course: thanks to Swami Nikhilanand for his guidance, the amazing group of interns below, adult coaches (Kinnary Patel, Srivani Banda, Padmini Chintalapaty, Ravi Goda, Manish Goyal, Karn Singh) and many others, who worked crazy hard for over 12 months!
Additional Teachers: Kinnary Patel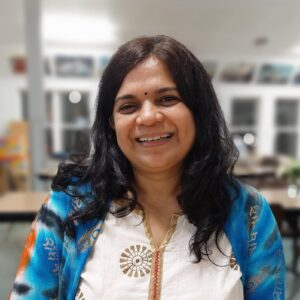 Kinnary is an Applications Development Manager at Citigroup. She is passionate about finding innovative ways to deliver to the Business by bringing people together to gather insights. She is a continuous learner with a growth mindset and skills important for a leader to achieve superior results: consensus building, navigating through complex organization structures, influencing, negotiating, and leveraging relationships.
When she is not actively working at Citi, she enjoys volunteering at Radha Govind Dham, at her daughter's school and at various Organizations through Citigroup's volunteering program.
Kinnary thoroughly enjoyed being a mentor to the RGD Gita Interns who spent the whole year preparing this Gita for Youth Leadership program. She also helped author and edit several sections of the course. The most important thing she has learnt through this program and interactions with these bright Gita interns at RGD is: every day, you have the opportunity to change your life and taking this responsibility is the first step in creating a lasting legacy!
Srivani Banda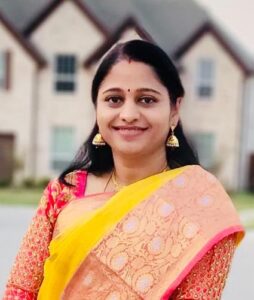 Srivani has been an Oracle Apps – Supply Chain Management Lead for various projects at TCS, IGATE, GE, etc during her 20 years in technology. Throughout her career, she has applied best practices in leadership, quality assurance, project management and IT development.
She loves to draw, sing and garden during her free time. She has been a seeker of spiritual knowledge since her early twenties and is a dedicated volunteer at Radha Govind Dham. She feels fortunate to have Kripaluji Maharaj as her Guru, who has laid out a simple, yet effective path to lead our lives to the fullest and by the principles of Gita: with harmony, purpose and a deep connection with life.
She thoroughly enjoyed being part of the Gita Leadership Program where she has helped author and edit sections of the course. She looks forward to continue contributing by mentoring others with these learnings.
Youth Teaching Assistants: 
Teacher
Profile
Aashna Goyal

Aashna is a junior at Prosper High School and is a passionate and driven student who loves to help others. During the creation of this class, not only was she able to contribute to the development of various life practices, she was also able to improve her life by implementing them.

Aashna has been serving for five years through many seva projects and this internship in Radha Madhav Dham and Radha Govind Dham.

She was a core chanter for a Guinness World Record event at the Sahasragala, which was the chanting of the Gita by over 1,000 people. She loves to dance and reach out to her community by promoting a healthy lifestyle and participating in healthcare events.

Ananya Adiki

Ananya Adiki is a senior at Independence High School in Frisco and is a hard-working individual both in and outside of school. She has taken on many roles throughout the internship and through this experience, she has gained new leadership skills such as time-management and active listening.

Aside from this internship, she has been involved in the RGD youth group through volunteer opportunities taken place during special events. In addition, she seeks to learn new things and therefore, has enrolled in dholak classes where other youth like Rishi are the teachers.

Outside of the temple, she spends most of her time practicing Colorguard. Despite her hectic schedule, she continues to make time for this internship as it has taught many things one being how to handle stress which has also proved resourceful in Colorguard.

Kavya Bhasin

Kavya is a junior at Allen High School, and has been a member of the RGD youth group since she was young. She is an active volunteer at the mandir and frequently attends satsang. This program has taught her many important lessons. She hopes to inspire other kids and help build their passion through the teachings of the Gita.

From age 6, Kavya learned harmonium and various other instruments with the help of other RGD mentors. She hopes to share the same mentoring and leadership she received to other kids in a fun and rewarding manner.

Manasvi Kaila

Manasvi is a junior at Founders Classical Academy of Lewisville. She is an active volunteer and a young devotee of Radha Govind Dham. She has been involved in Seva for six years, and has been giving back to the community through RGD by teaching younger kids harmonium, taking part in the Youth Group, and helping with other main RGD events.

She is a dedicated and talented dancer and has been performing since she was five, performing at RGD festivals and competitions winning many first place titles. Manasvi is passionate about this internship and helped create the curriculum along with her friends. She has learned many important principles from this internship and plans to use them in the long run.

She has held many leadership positions being a regional director at a respective volunteer organization known as Am4teens, a marketing/media team leader at her robotics team, and is currently the Service Committee head chair of NHS leading many service projects to give back to the community. She is a Girls Scout, who achieved both her Bronze and Silver Awards, and is on the path to achieving the Gold Award. In her free time, she loves to hang with family and friends, travel around the world, and read many books.

Nehal Goyal

Nehal is a freshman at Prosper High School and is a hardworking and creative student who dedicates her time to make a difference in the lives of other people. During the process of making the program, Nehal was able expand her knowledge of the Bhagavad Gita and learn about different theories and ways to become a better Youth Leader.

Nehal has been a part of many seva projects in Radha Madhav Dham since the first time she went there in 2017 and has enjoyed working at Radha Govind Dham for the creation of the program.

Nehal participated in a rigorous 10 month long program to memorize all 700 shlokas of the Bhagavad Gita and later participated in the Guinness Book Of World Records event the Sahasragala, the continuous chanting by over 1000 people. During the Sahasragala event, Nehal was part of the core chanters team, leading the whole group of people chanting. Nehal is also a passionate Bharatanatyam dancer who helps as an assistant teacher, helping younger kids perfect their technique.

Rajitha Banda

Rajitha is a sophomore in High School and is a dedicated youth volunteer. She has excelled in various areas as a music teacher, classical dancer, saxophonist, singer, marching band leader, and an academically outstanding student.

Rajitha is a passionate volunteer motivated to give back to the community and is committed to mentor others to excellence through this program. She has been a part of multiple youth seva projects at Radha Govind Dham.

Rishi Meka

Rishi is a driven and ambitious student at the University of Texas at Dallas, where he is pursuing his Bachelor's degree in Software Engineering.

In addition to his studies, Rishi has been a dedicated volunteer at Radha Govind Dham since 2016. He has taught music classes, worked in the audio and video department at events, and served as a lead musician during weekly Sunday satsungs.

Additionally, Rishi has taken on the role of college mentor, helping to create an internship program. When he is not in class, Rishi works as a Salesforce Development Intern, and will soon be starting a Summer Analyst position at Goldman Sachs.

Sanjitha Venkata 

Sanjitha is a senior at Hebron High School, and is an active youth volunteer at Radha Govind Dham. She is responsible, dedicated and passionate towards her work. Even during the journey of helping creating this "Gita For Youth Leadership" course, she was able to benefit from its teachings.

Sanjitha has been involved in Seva for seven years now, and has taken part in many aspects of Radha Govind Dham. She teaches harmonium and vocals, takes part in the youth group, and volunteers during events.

 Apart from Radha Govind Dham, she also loves to participate in school clubs/NGO's and holds several leadership positions including DECA President and Shooting Stars Foundation State President. She loves to travel and aims to visit every country she possibly can.

Shivani Sarangam

Shivani is a freshman at RL Turner Highschool and has been part of the Radha Govind Dham community for over 6 years. She is hardworking and enthusiastic. While creating this internship, she learned many helpful skills and acquired an abundance of knowledge.

Shivani volunteers at many events here at Radha Govind Dham and is an active youth group member who teaches harmonium to kids and adults weekly.

Outside of Radha Govind Dham, she is part of HOSA and the Biomed program at her school. She is on her school's varsity tennis team and is currently working on her art portfolio. She is very social and loves spending time with her family and friends.

Sri Kesiraju

Sri is an International Baccalaureate Junior at Plano East Senior High School. She strives to give her very best in all of her work. Sri has joined the Radha Govind Dham Association through this internship. Throughout the internship, Sri has worked on various soft skills, presentation skills, etc.

Sri also volunteers outside Radha Govind Dham and tutors kids struggling with Math to further contribute to her community. In addition, Sri takes part in the National Honor Society and IB School Student Association. She is the current robotics co-captain for her school team. She also is the Captain of Aiding the Specially Abled Club at school. Sri loves to explore and enjoys spending time outdoors.

Shreya Goda

Sravani Koppala